Unlike premium rewards, you can purchase an unlimited number of non premium rewards in myVEGAS for your next trip to Las Vegas. This guide below will help you learn about the best non premium myVEGAS rewards.
Premium vs Non Premium Rewards in myVEGAS
The myVEGAS app denotes a premium reward as one that gives you complimentary anything at the MGM Resort properties on the Las Vegas Strip. Casino FREEPLAY rewards also count towards your premium limit.
By default, myVEGAS has a limit of 3 premium rewards in a 30 day window. You can increase your limit by making real world purchases in the app, but that's not what this guide is about!
Non premium rewards in myVEGAS are ones that aren't complimentary, such as 2-for-1 and 50% off rewards. These rewards required you to put up some of your own money in Las Vegas. Spending money in Las Vegas is inevitable, so you might as well get more bang for your buck!
Let's have a look at the best non premium rewards worth purchasing in the myVEGAS app.
Best Non Premium Rewards in the myVEGAS App
2-for-1 Tom Beers at Tom's Urban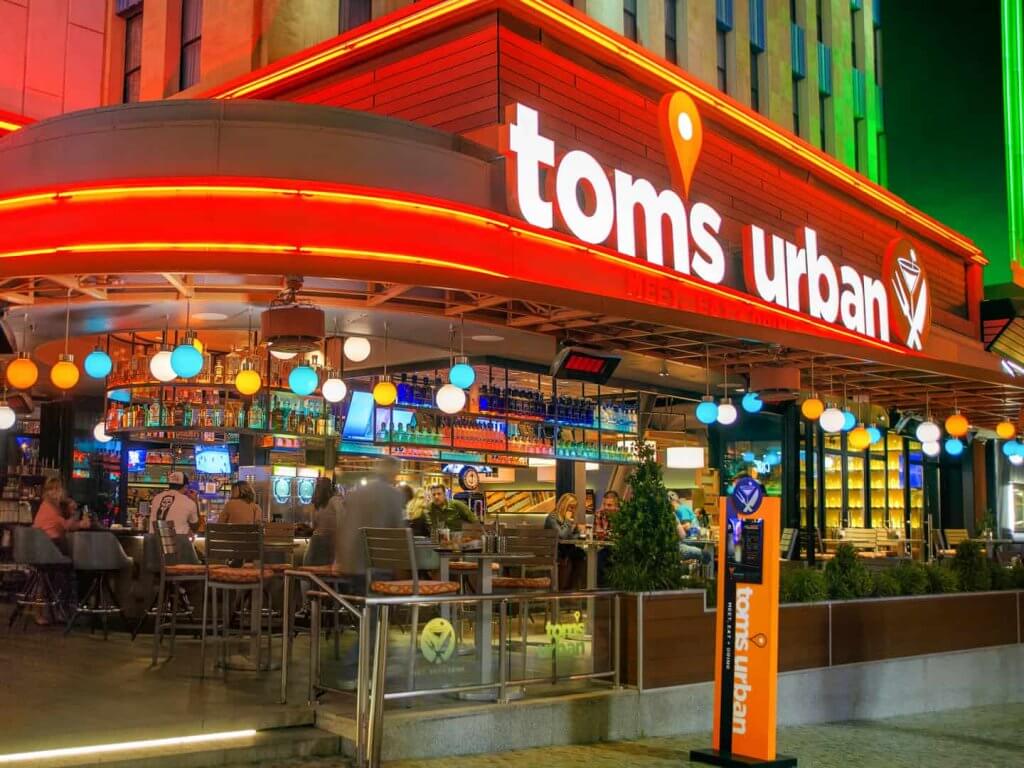 Tom's Urban is a popular pub located in the New York New York hotel. It contains an outdoor patio right on the Vegas strip across from the MGM Grand hotel.
The flagship drink on the menu is the Tom Sized Beer: 40 ounces of draught beer of your choice. For only 3,000 myVEGAS loyalty points, you can enjoy TWO Tom Sized Beers for the price of one.
80 ounces of beer is almost 7 full cans of beer to enjoy for only $20.
Pro-tip #1: Anything that pours is half off at Tom's Urban during their daily happy hour from 2-5pm, so you can get the same deal without using your loyalty points if you go early in the day.
Pro-tip #2: If you ask for a cup to go, the fine staff at Tom's Urban will give you as many as you need to walk with your beer along the Las Vegas strip!
Click here to check out the official Tom's Urban website for menu and other details.
Camelot Steakhouse Deal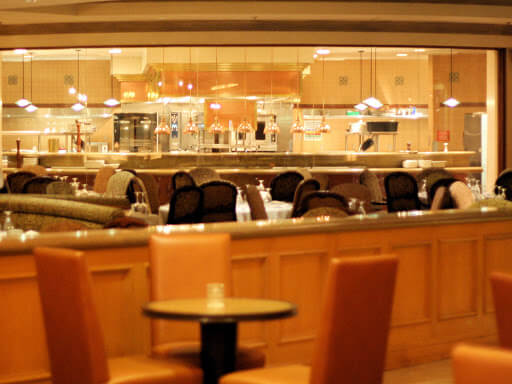 Camelot Steakhouse is a highly rated steakhouse located in the Excalibur hotel. The myVEGAS app has 3 Camelot Steakhouse rewards:
$50 off $125 for 10,000 points
$100 off $225 for 20,000 points
$150 off $325 for 30,000
A look at the Camelot Steakhouse menu shows that entree range from about $30-60 each. With one drink each per person, the above rewards can easily be met by two, four, or six people accordingly.
On Tripadvisor, Camelot is showing up as the #297 out of 4,351 Restaurants in Las Vegas. The restaurant has been around for a lot of years, so this is an excellent ranking after all this time.
Some of the most recommended menu items at Camelot are the crab cakes, scallops, peppercorn steak, and the ribeye steak.
Click here to learn more about the Camelot Steakhouse and to view the menu.
Buy One Get One Aria Buffet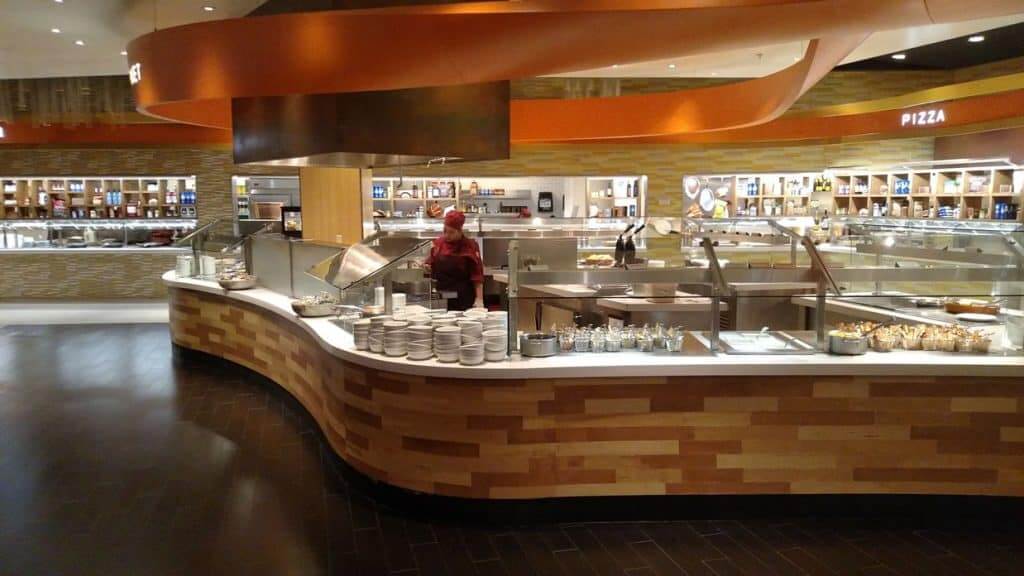 There are 2 Aria buffet deals that are non premium rewards in myVEGAS, so they won't count towards your premium limit of 3 per 30 days. The two deals are:
2-for-1 lunch buffet (Mon-Thu) for 8,000 points
2-for-1 dinner buffet for 15,500 points
The 2-for-1 buffet deals in the myVEGAS app are all reasonably priced. We love the Aria buffet because it is new, premium, and in one of the top hotels in Las Vegas.
If you aren't convinced, here is a list of fresh buffet stations included with your Aria buffet:
Fish Market (Dinner only) – Fresh seafood, crab legs, paella, and poke bowl station
Asian – Dim sum and dishes from Thailand, China, and Japan
Italian – Made to order pasta and cured meats and cheeses
Pizza – Authentic pizzeria-style pizza in New York style
Mediterranean – Dishes and salads from North Africa and Middle East
Tandoori – Oven-fresh naan, chicken, vegetables, and more
Latin – Authentic dishes from Mexico and South America
Carvery – Grilled, smokes, and slow roasted meats all carved to order
Diner – American comfort food including mashed potatoes, gravy, and mac & cheese
Salad bar
Sweets
The Aria buffet costs $26, $31, and $41 for breakfast, brunch, and dinner respectively. Since you are getting 2 buffets for the price above, that makes this a great non premium reward for a couple thousand points!
One final bonus to this reward: Unlike the complimentary buffet, the 2-for-1s don't require you to stay at an MGM property while you are in Vegas.
Click here to learn more about the Aria buffet on its official website.
50% off Two Tickets to KA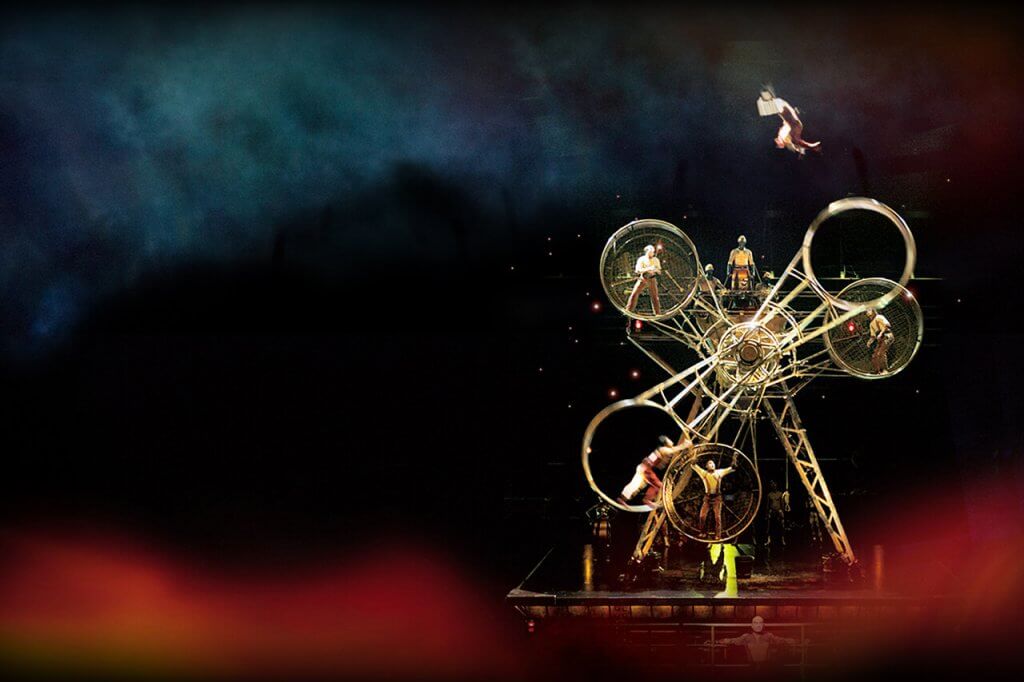 If you want to go see a Cirque du Soleil show for less money, then this might be the best of the non premium rewards in the myVEGAS app.
There are two different options to select from:
50% off two standard tickets for 5,000 points
50% off two premium tickets for 10,000 points
Unlike the specialty room rates which force a specific dollar value on you, the KA tickets are chosen through the official MGM Resort website. This means that you'll get 50% off of whatever the market rate is for your performance day.
KA is the flagship show at the MGM Grand hotel. It is a coming of age story about a young man and women and their encounters with KA, the fire that can unite or separate. It contains tons of jaw-dropping stunts that fans who enjoy Cirque du Soleil have come to expect.
Looking at the calendars for 2020, KA standard tickets start from $69 and premium tickets start from $85. Each show sets aside a number of tickets for myVEGAS app players.
Click here to view the official website for Cirque du Soleil KA.
What are your favorite non premium rewards in the myVEGAS app? Comment below and let us know! We want to keep our list of top rewards updated for everyone.