In this guide, we will walk you through all the available free Vdara rewards at this all-suite in Las Vegas. You can earn these rewards if you play the myVEGAS app for Android, iOS or Facebook
Vdara Hotel and Spa is located on the Las Vegas Strip and features a full-service spa. All suites provide an iPod docking station and a 42-inch flat-screen TV. The modern suites at Vdara Hotel & Spa at ARIA Las Vegas include a kitchenette. A dining area is provided. This all-suite non-gaming, non-smoking resort offers special suites for dog owners and their dogs.
Vdara Hotel & Spa at ARIA Las Vegas features a rooftop pool surrounded by plunge pools. Snacks and cocktails are served at the poolside bar. It features the Market Cafe, a boutique grocery store and cafe, providing the option to grab a quick bite or purchase fresh items.
Vice Versa Patio and Lounge at Vdara serves cocktails in a contemporary lounge setting by night. Live music is also offered every Friday and Saturday night.
Points Per Dollar
Where possible, we measure all the Vdara Hotel rewards below in terms of points per dollar. We do this by dividing the amount of loyalty points the reward costs by the cost before taxes.
Lower PPD rewards are better values because it costs you less loyalty points for each reward dollar you receive. This way, you can see what the best bang for your buck is and use your points wisely.
Let's now take a look at all the free rewards you can earn by playing the myVEGAS app, you can then decide for yourself.
Free Vdara Hotel Rooms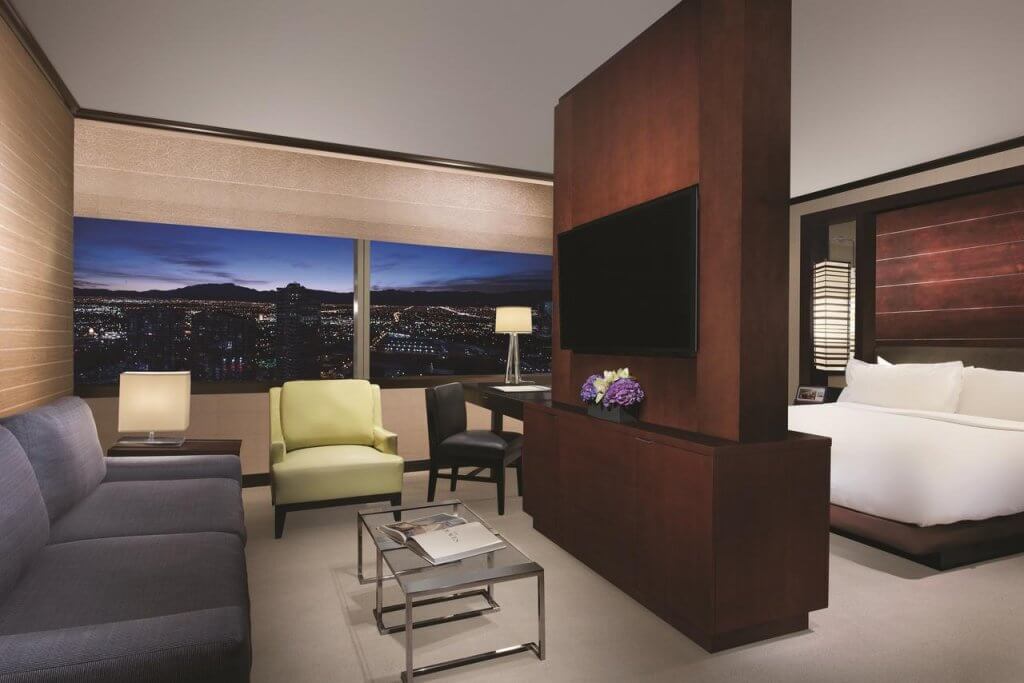 Exclusive Rates on Suites
Enjoy a Deluxe suite, including a kitchenette and stunning views, in Vdara's base suite that is anything but basic and receive a midweek rate of $89 per night or a weekend rate of $129 per night.
25% Off Room Rate
Stay in the heart of the Las Vegas Strip at Vdara Hotel with 25% off rate. These rooms provide everything you need for a comfortable and thoroughly enjoyable stay including your choice of one king or two queen beds, 400 square feet of space to relax in and all the amenities you could want.
One Complimentary Room Night
Make a free night of it! Enjoy one complimentary room night at Vdara Hotel for 100,000 points. Relax and rest comfortably in Vdara's beautifully appointed guest rooms.
To redeem any of the above rewards, visit Vdara official website to check the reward's availability.
Vdara Rewards on Food and Drink
2-for-1 Cocktails at VICE VERSA Patio & Lounge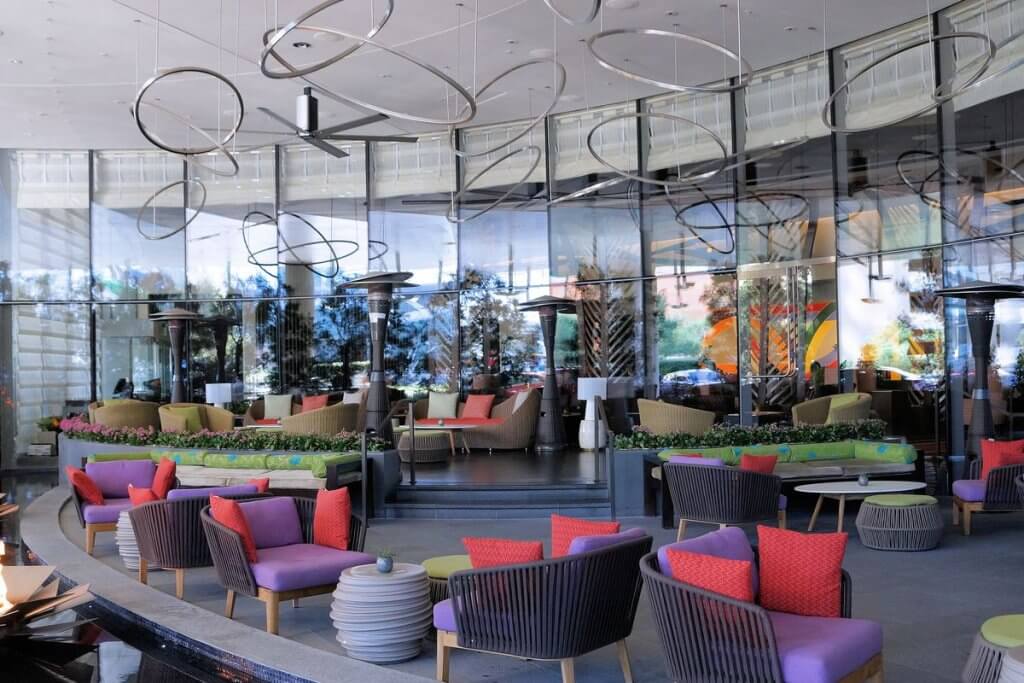 Cost = 4,000
Dollar Value = $14
Value = 286ppd
A glowing jewel in the heart Vdara's lobby, VICE VERSA Patio & Lounge radiates with sophistication and surprise. This is the ideal setting to pair small bites with handcrafted cocktails or enjoy a nightcap.
Whimsical touches, such as outdoor swings, light-enhancing sculptural screens and a curved reflecting pool, add to the inviting, luxurious and playful nature of the space.
2-for-1 Breakfast/Lunch at Market Café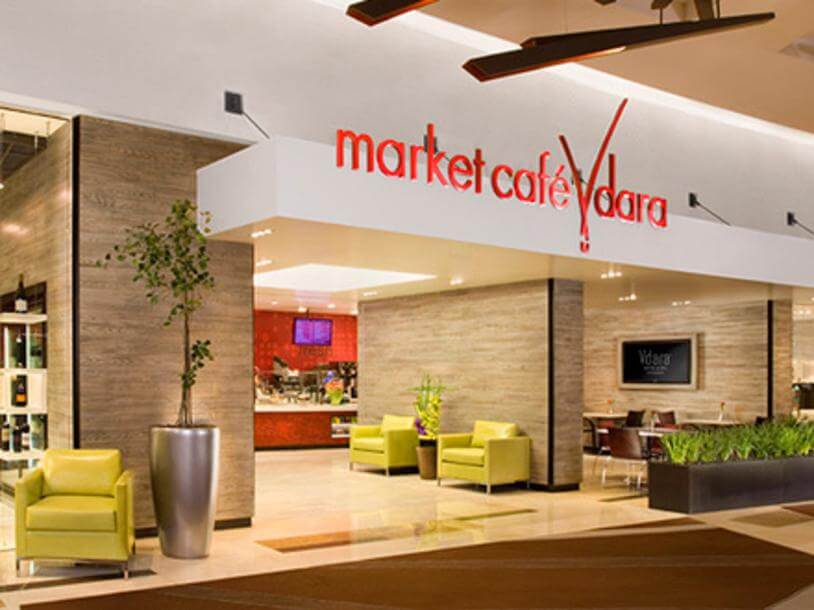 Cost = 7,500
Dollar Value = $25
Value = 300ppd
Market Café Vdara features classic American dishes with a European twist. This modern café features a menu of freshly prepared breakfast (available all day), lunch and dinner options.
If you are on the go, drop by this cozy eatery for a quick bite, sweet treats, gourmet groceries and a variety of health snacks.
Other Vdara Rewards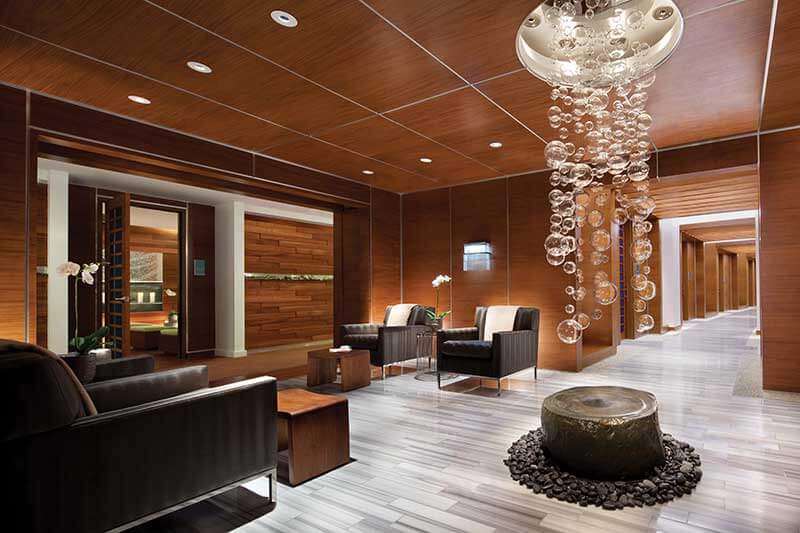 Hydrating Foot Paraffin w/ Purchase of Pedicure
Cost = 7,500
Dollar Value = $25
Value = 300ppd
The salon at Vdara boasts services for men and women, including professional hair design, luxurious spa manicures, and pedicures, as well as makeup artistry; all offered in a unique sanctuary where guests can feel relaxed and pampered. Enjoy a complimentary hydrating Foot Paraffin with the purchase of any pedicure.
Spa Upgrade At ESPA (80 minutes for price of 50)
Cost = 32,500
Dollar Value = $100
Value = 325ppd
Tuck yourself away from the high energy within Vegas' most intimate spa setting. Set over two floors, ESPA at Vdara offers a multi-functional treatment room where you can retreat and enjoy a full day of pampering.
Visit this salon for a 50 minute massage or facial service and you will be upgraded to an 80 minute service with this reward.
Which of the above the Vdara rewards is your favorite? Share your thoughts with us using the comment box below