Here's a fun idea to get out on the strip, see some different pubs, and have a good time: a Las Vegas pub crawl! We've put together a list of Las Vegas drink deals you can use myVEGAS points on in order to save money and have a good time.
Grab a group of friends, pick a side of the strip to start on, and make it a mission to visit all of the following spots on your journey. Go with the flow, have fun, and you are sure to encounter a few surprises along the way.
What is the myVEGAS Pub Crawl?
The myVEGAS pub crawl is a fun game where you try to visit as many pubs as possible and order a drink at each place. All of the places on our list are ones sponsored by myVEGAS and you can redeem loyalty points for free or discounted drinks at each place.
On this myVEGAS Las Vegas pub crawl, you'll have a blast finding each place listed and enjoying each place for a drink (and maybe some food). Because you are using myVEGAS loyalty points, this is the cheapest Las Vegas pub crawl you'll find.
Las Vegas Pub Crawl Rules and Guidelines
There are few important rules to keep track of before you begin your journey:
Drink responsible! Don't be that person puking in public who has to be carried back to your room in the middle of the afternoon.
Start early. Each Las Vegas pub you visit below will take you longer than you think it will. You'll also have to redeem your myVEGAS reward at the MLife redemption desk, which takes some time. You can always make up time by getting your previous drink to-go and enjoying it on your journey to the next stop.
Sample some Las Vegas food too. No matter which side of the strip you start on below, we start you off with some food in addition to your first drink. That's done on purpose to pace you for your journey.
Share with a friend. Most of the Vegas pub crawl drinks listed below take advantage of 2-for-1 deals in the myVEGAS app because you don't want to use up all of your premium rewards on Vegas drinks. We recommend pairing up with a friend and splitting each reward. This way, you'll only have to spend half of your money and half of your loyalty points.
So without further adieu, let's get into our Las Vegas pub crawl using only myVEGAS rewards!
Las Vegas Pub Crawl Stops
$20 off $40 at Public House – Luxor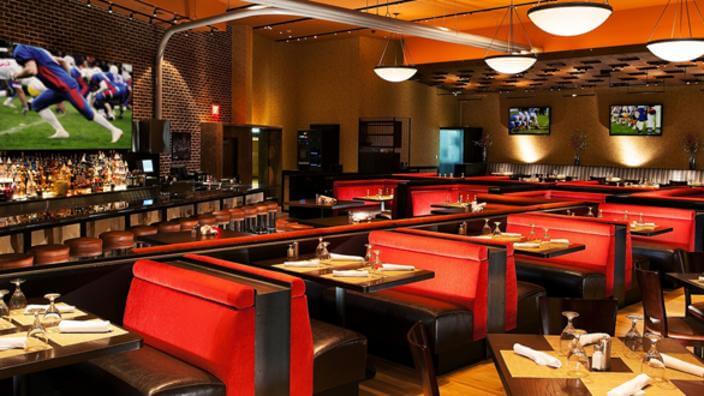 Value = $20
Loyalty Points = 10,000
The Public House is a casual sports bar located in the Luxor at the south end of the strip. This is the proposed first stop of our journey (or last if you started at the bottom of this guide).
NOTE: The Public House opens at 4pm during the week, 11am on Saturday, and 10am on Sunday. If you are doing this pub crawl during the week, you'll have to skip this one.
For 10,000 myVEGAS loyalty points, you'll get a $20 off $40 voucher at Public House. Drinks mostly range between $7-9 and appetizers from $12-20. Two people should be able to split 2 drinks and an appetizer or two for $40.
We recommend the Tuna Poke Nachos and the Chorizo & Beer Cheese Dip. Yum!
Free Shot at Centra w/ Purchase of a Cocktail – Luxor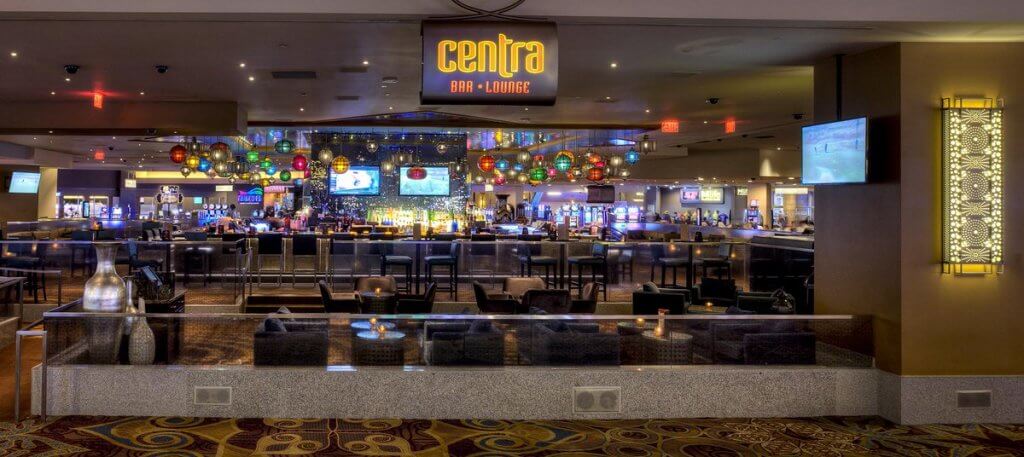 Value = $8
Loyalty Points = 6,500
Before you leave the Luxor, check out Centra in the middle of the casino. You can play some video poker or slot games while you enjoy your drink, or people watch the casino around you.
Our recommendation? Play a game with a friend where the winner chooses between the cocktail and the free shot.
1 Complimentary Corona at any bar or lounge – Excalibur (PREMIUM)

Value = $8
Loyalty Points = 5,000
If you don't mind using up one of your myVEGAS premium rewards, you can get a complimentary Corona beer at the Excalibur, our second hotel stop on this Las Vegas pub crawl.
The Lobby Bar across from the front desk is a prime people-watching spot and is open 24/7.
2-for-1 Tom Sized Beers at Tom's Urban – New York New York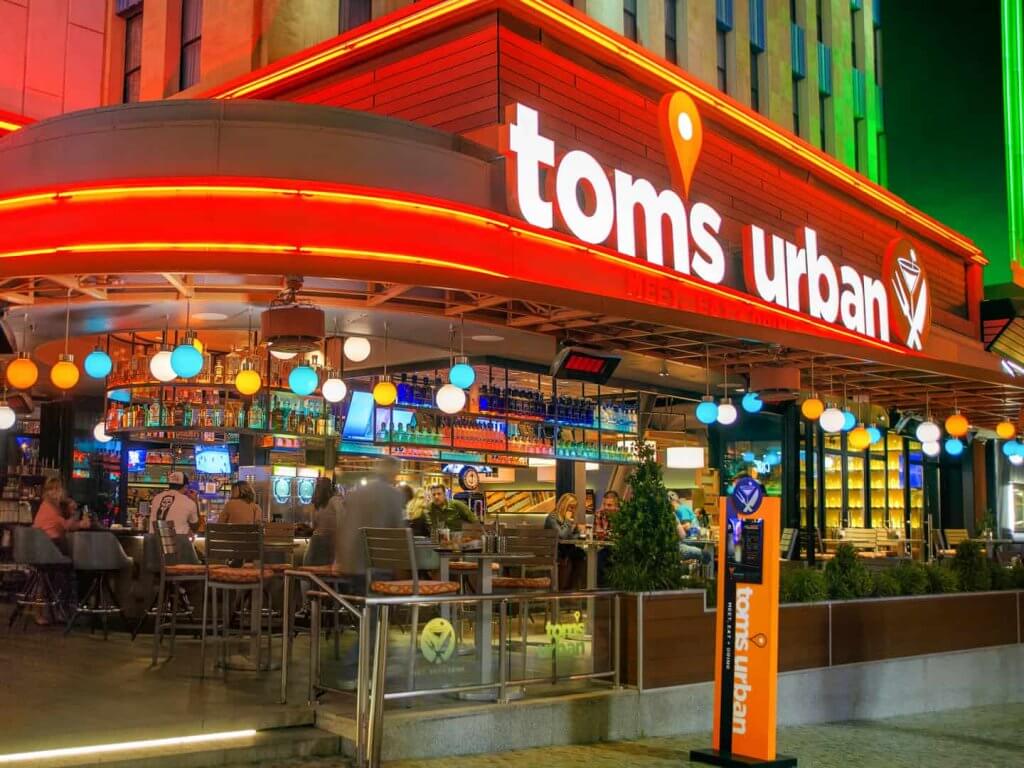 Value = $10
Loyalty Points = 3,000
One of our favorite myVEGAS rewards and top pubs on the Vegas Strip, Tom's Urban at New York New York is a must-stop on your journey. The Tom Sized Beer is a whopping 40 ounces and the selection is top-notch.
The best spot to sit at Tom's is outside on the patio, which gives you a great view of Las Vegas Boulevard and MGM Grand and Park MGM nearby.
Depending on how heavy you feel at this point, one of these rewards MIGHT be good enough for 4 of you.
2-for-1 Drinks at Coyote Ugly – New York New York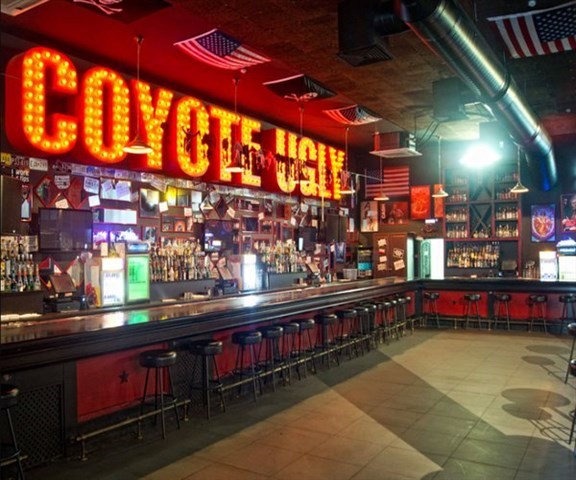 Value = $10
Loyalty Points = 2,500
Another fan favorite, Coyote Ugly is worth a stop no matter what day or time. It's located past the NY NY casino floor, up on the second level.
If this is the towards of the end of your journey, Coyote Ugly might be popular enough to stop and hang out for a while.
Leann Rimes not included.
OPTIONAL: $15 off 2 Lunch Entrees or $25 off 2 Dinner Entrees – Wolfgang Puck in MGM Grand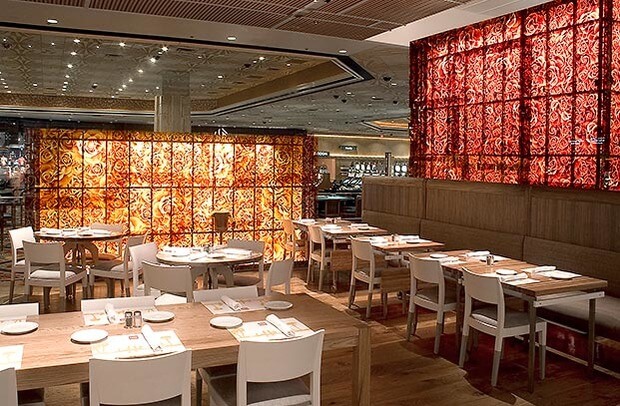 Value = $15 or $25
Loyalty Points = 10,000
Depending on the time of day and how you are feeling, this might be a good time to get some food at Wolfgang Puck Bar + Grill in the MGM Grand.
The Bar + Grill menu contains pizza, pasta, seafood, and other American classics. Prices generally range in the $18-30 range, so you'll roughly get 50% off your bill with this myVEGAS reward. It's a good mix up on your Las Vegas pub crawl, but rowdy groups may want to give this one a pass.
2-for-1 Cocktails at Juniper – Park MGM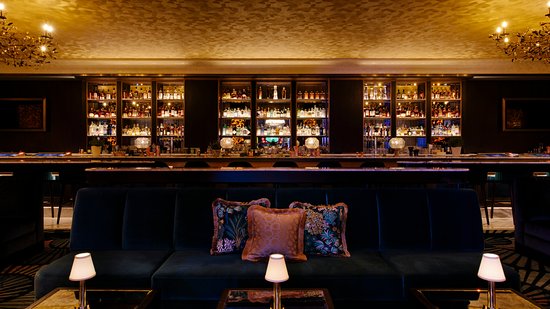 Value = $16
Loyalty Points = 10,000
The Juniper Cocktail Lounge in the Park MGM has the largest collection of Gin on the strip. It's located on the left side of the casino floor as you enter it from the main lobby.
Juniper doesn't open until 5pm, so this one might be a pass depending on your timing. It's a cool spot for a cocktail on the Vegas strip though.
1 Cocktail at ALIBI – Aria (PREMIUM)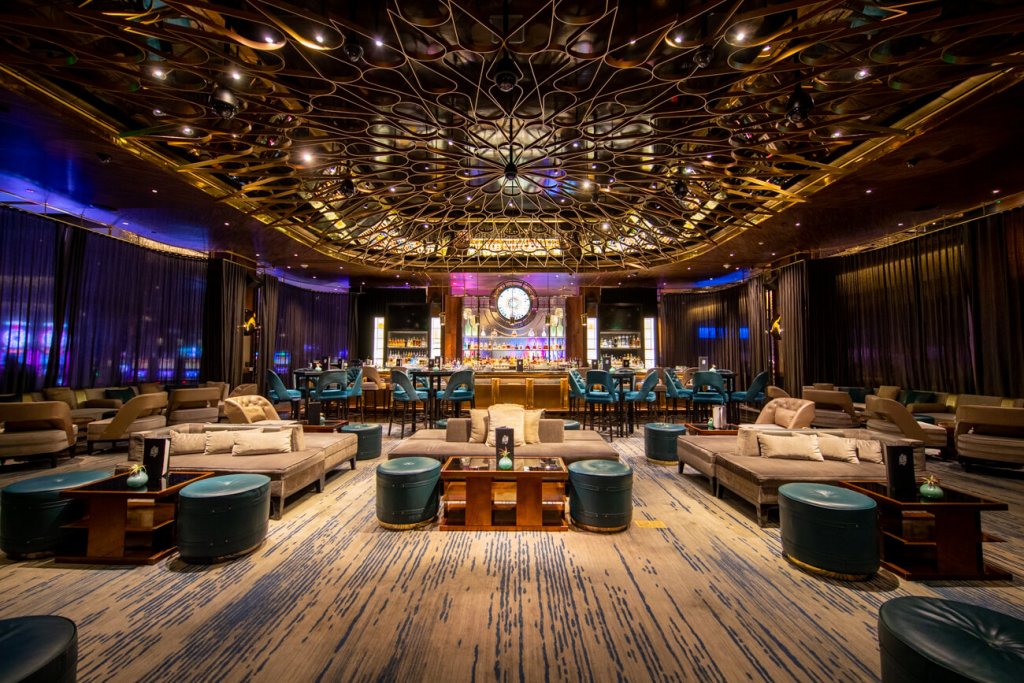 Value = $20
Loyalty Points = 7,500
The Alibi Ultra Lounge is a modern spot for mingling in one of MGM's most premium hotels on the strip. Even though this reward costs you a myVEGAS premium slot, we think its worth it if you have an extra one.
Plus, the Aria hotel is worth checking out even if you aren't staying inside of it.
All cocktails are hand-crafted here and there's always something going on. If it's later at night, you might see a DJ spinning records here as well.
2-for-1 Cocktails at Vice Versa – Vdara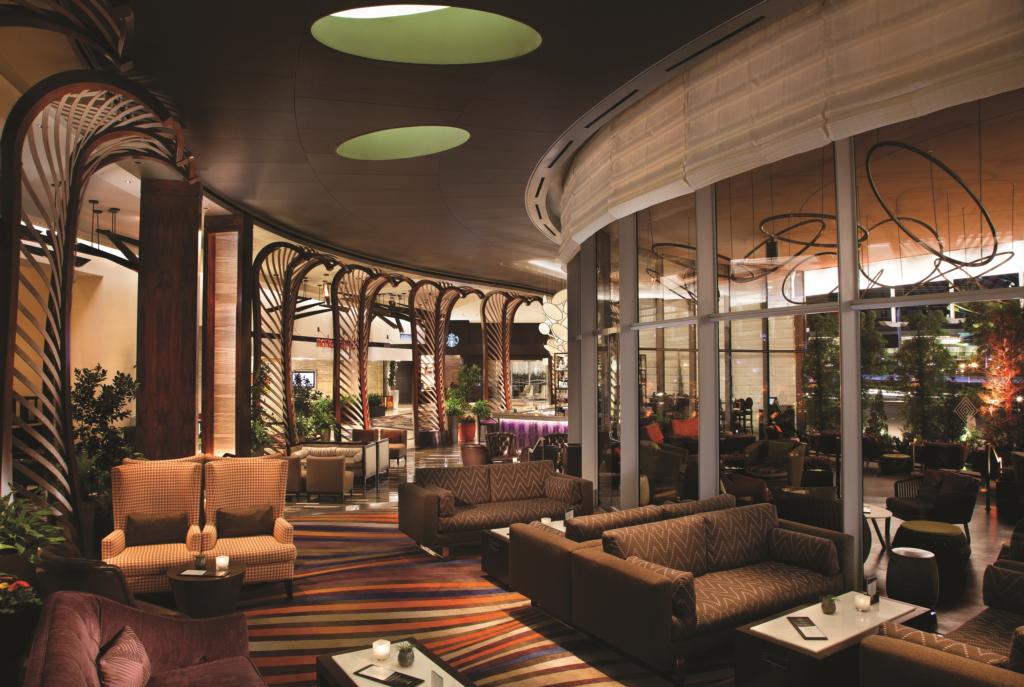 Value = $15
Loyalty Points = 4,000
The Vdara can be a forgotten spot – hidden off the strip behind the Aria hotel. Take your Las Vegas pub crawl on an adventure to find Vice Versa, this big lounge and patio spot.
If it's a nice day, grab a spot on the patio and share two different specialty cocktails with your friends. The Mojito is also a great choice.
Complimentary Cocktail at Harvest from 5-6pm – Bellagio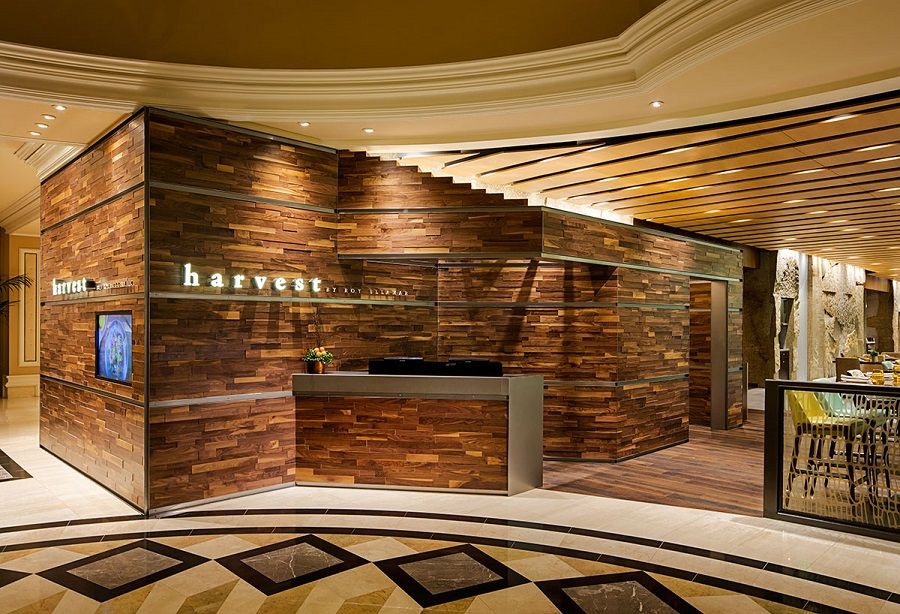 Value = $20
Loyalty Points = 7,000
Harvest by Roy Ellamar is one of the top spots on the Vegas Strip. It's located in the Bellagio hotel. This myVEGAS reward is unique in that it's a complimentary cocktail that doesn't require using one of your premium spots. The BIG catch is that it can only be redeemed between 5-6pm.
The other limiting factor in checking out Harvest is that the attire is more business casual. If your group is in shorts and flip-flops, it's better to skip this one and keep your party going at spots better suited for you.
1 Cocktail at Lily's w/ Purchase of Appetizer or Meal – Bellagio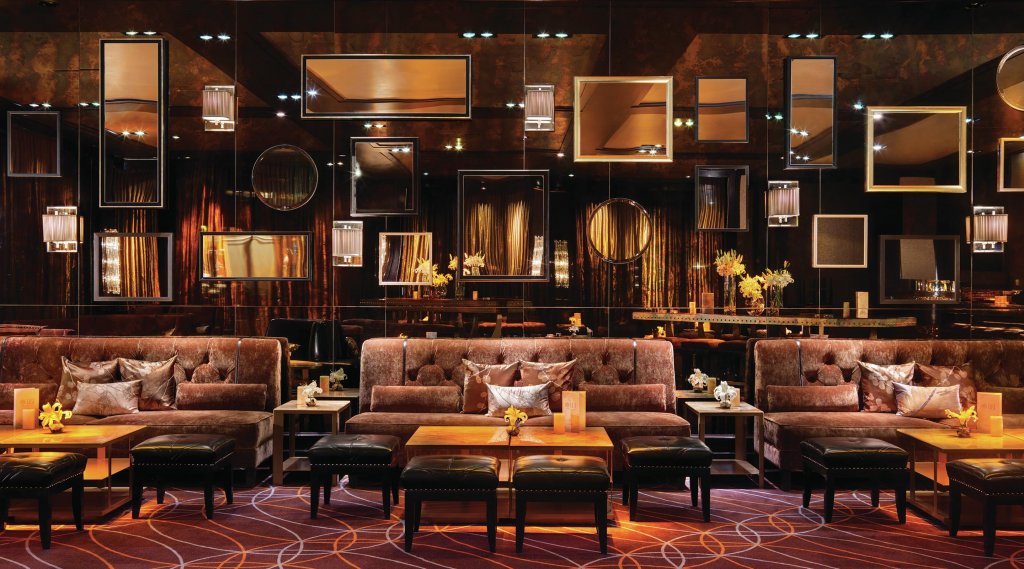 Value = $18-20
Loyalty Points = 10,000
The Lily Bar & Lounge is a party spot right in the middle of the Bellagio casino. The style is both classic and modern and everything is premium here.
Since cocktails are pretty expensive at about $20 per glass, a free one with some food is a good plan to recharge if you need it.
2-for-1 Cocktails at Parlor Lounge or 2-for-1 Cocktail OR 2-for-1 Drinks at Center Bar – The Mirage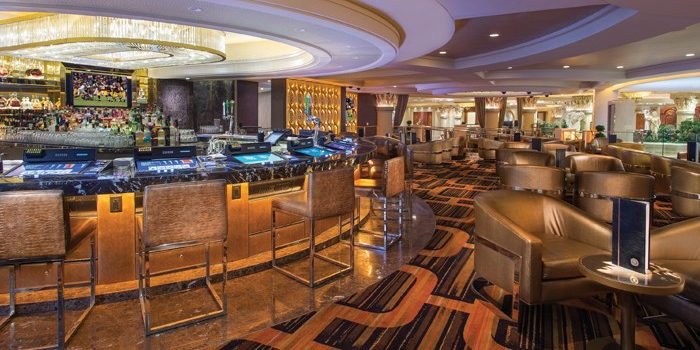 Value = $18
Loyalty Points = 4,000 or 6,000
The Parlour Lounge is only open from 6pm onward, so that's probably not an option if this is the start of your Las Vegas pub crawl. If this is the last stop, the Parlour Lounge is a great spot to end your night. The place has plenty of live music and cocktails to check out.
If this is the beginning of your trip, we recommend the Center Bar, also in The Mirage. Located right near the main lobby, the Center Bar is a casual spot to start your pub crawl with a few drinks.
Total Las Vegas Pub Crawl Cost
If you visit every pub on our list above, it will cost you 79,500 loyalty points. That's not bad, considering you'll get to experience 12 different locations along the Las Vegas strip. If you partnered up like we suggested, it will only cost you roughly half of those points.
In value, you'll save $200 verses paying full price at each pub. The total cost for your day will run you about $147, which isn't too bad, again, if you split everything with another friend.
$75 for a whole day of exploring the Las Vegas strip is cheaper than most things you can do in Sin City.
If you followed any part of our Las Vegas pub crawl using myVEGAS rewards, comment below and let us know how it went! If you skipped or added any rewards, we want to know.