The city of Las Vegas is famous for many things: casinos, neon lights, famous hotels and stunning entertainment draw people from around the globe. It's also become a mecca for foodies because of the variety and quality of its restaurants. In this article, we will explore the best Las Vegas pizza on the strip.
Pizza is one of those foods that satisfies everyone. You can make it vegetarian or vegan. You can make it gluten-free. You can have it New York-style or Chicago deep dish-style. No matter how you like your pizza, you'll find what you're looking for on the strip.
Let's get started.
Best Las Vegas Pizza on the Strip
Slice of Vegas in Mandalay Bay
Recommended Pizza: 10 Meat
The Strip is home to some of the best Las Vegas pizza. One of the most southern spots is Slice of Vegas, located in the Shops of Mandalay Bay. Here you'll find a sports bar/pub atmosphere with big screen TVs and craft beers. Italian favorites populate the menu, but pizza is the star.
Slice of Vegas make itsown fresh pizza sauce and use it on pies like the 10 Meat featuring pork, beef, veal, pepperoni, and more. When you get here, do not miss the Buffalo Chicken pizza for anything because it combines everything people love about wings including carrots, ranch, and mild wing sauce.
Pieology Pizzeria in the MGM Grand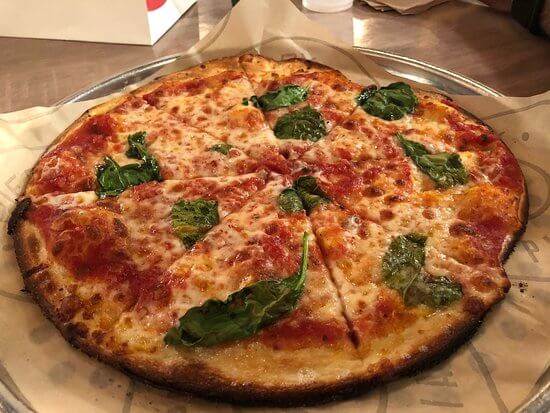 Recommended Pizza: Brooklyn Bridge
Pieology Pizzeria in the MGM Grand is home to another popular Las Vegas pizza destination on the strip. From the welcoming red and white checked tablecloths to the extensive menu, this restaurant is ready to serve diners from lunch straight through to late-night snackers.
The staff cooks it hand-tossed award-winning pies in a coal-fired oven for a unique taste that's hard to find anywhere else. The pizza offerings include specialties like the Brooklyn Bridge with Italian sausage and roasted red peppers, and the Quattro Formaggi topped with asiago, mozzarella, romano and gorgonzola cheeses.
Sirrico's Pizza in NYNY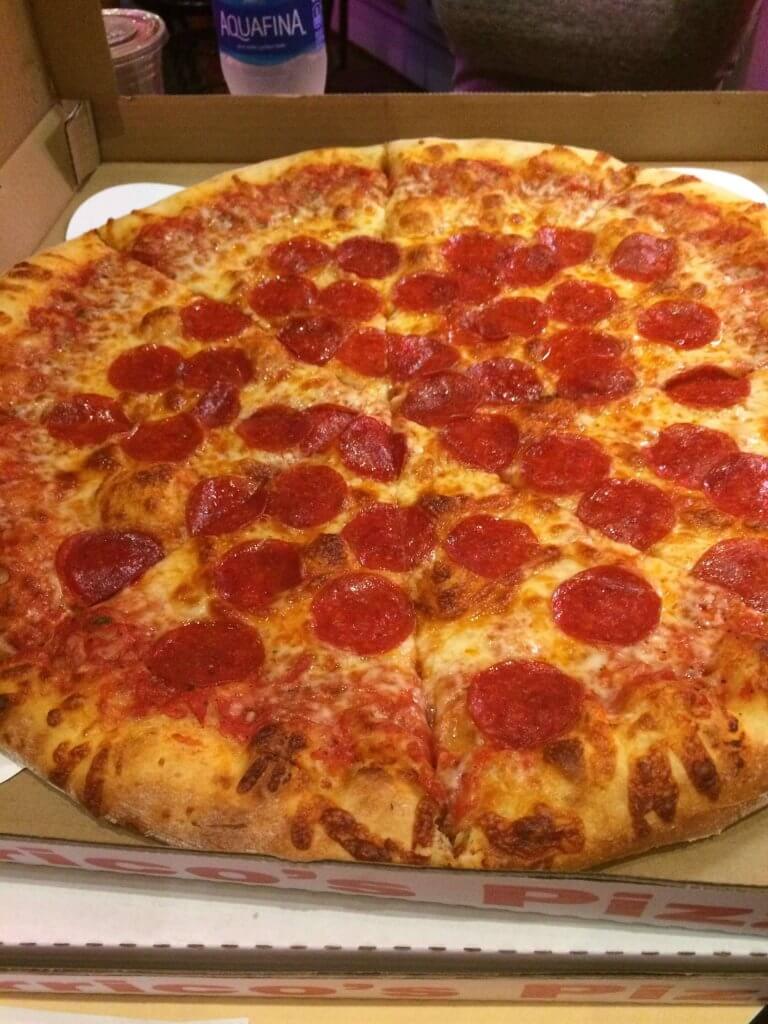 Recommended Pizza: Bella Diavola
Sirrico's Pizza sits in an unassuming storefront in New York New York but serves some of the best pizza options in town. The chef is trained in Italy to make traditional Neopolitan pizza and now add his own modern takes on a classic.
They use ingredients imported directly from Italy whenever they can and even their 1000-degree wood burning oven was made in Naples.
One of the most amazing things about them is that they offer a quick counter service, which means you don't have to wait for the meal to be served. Pizzas include the spicy Bella Diavola with hot peppers, hot cappicola ham, and fresh mozzarella, and the Portughese with baked ham, eggs, black olives, and olive oil.
For a special treat, try one of the pies with ricotta stuffed in the crust
Cucina by Wolfgang Puck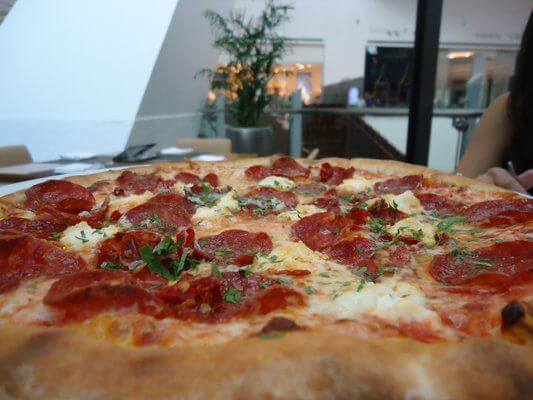 Recommended Pizza: Tricolore
Another great restaurant in Las Vegas from Wolfgang Puck, Cucina offers a variety of pizzas on its menu. This rustic Italian spot is located in the Shops at Crystals on the way to the Aria hotel and features dishes worthy of the world-renowned chef.
It offers a modern and welcoming decor to go along with its homemade dishes.
As one of the best pizza restaurants in Las Vegas, it offers some unique takes on the traditional pie. Cucina's pizzas include Tricolore with mozzarella, prosciutto, and arugula and a Calabrese with Calabrian salame, olives, and red onion.
For a great moment with family, do not miss Tricolore with mozzarella.
Secret Pizza in the Cosmopolitan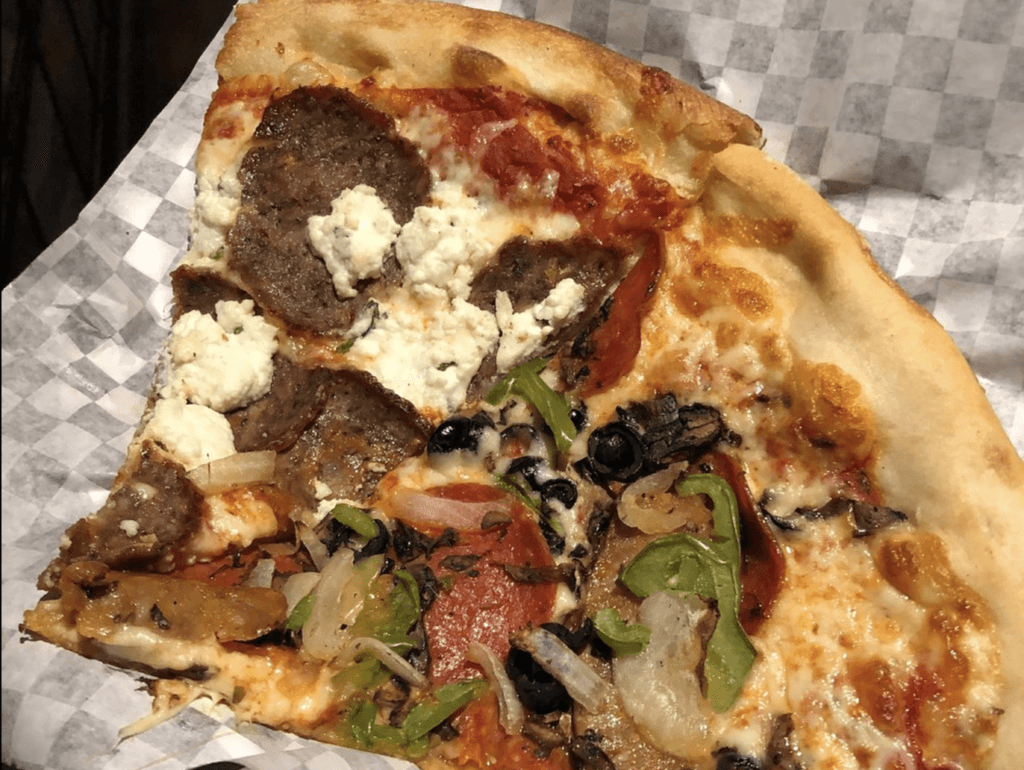 Recommended Pizza: Combo Perfecto
Using only the freshest available ingredients, Secret Pizza makes some of the best pizzas in Las Vegas.
Those favorites might include the Chicken Alfredo Pizza with garlic and mushrooms or the Combo Perfecto Pizza with the most popular toppings: pepperoni, sausage, mushrooms, black olives, peppers, and onions. Side dishes, appetizers, and other Italian favorites are also on the menu.
One of the best parts of Secret Pizza is the journey to find it. Secret Pizza is a speakeasy-style spot, hidden down a long hallway with no official sign. The spot is not listed on the Cosmopolitan resort map, so you'll have to search for it up on the third floor.
If you want a whole pizza to take to your room, it usually takes about 15 minutes. But don't worry, the brightly-colored pinball machine is always a fun way to pass the time if you're waiting. There is a high-top counter to stand at while eating a slice and a few mismatched stools. In addition to soft drinks, a few select beers are available.
For seasonings, Secret Pizza keeps it simple: Parmesan cheese, cherry pepper and oregano in old-fashioned spice shakers
Five50 Pizza Bar in Aria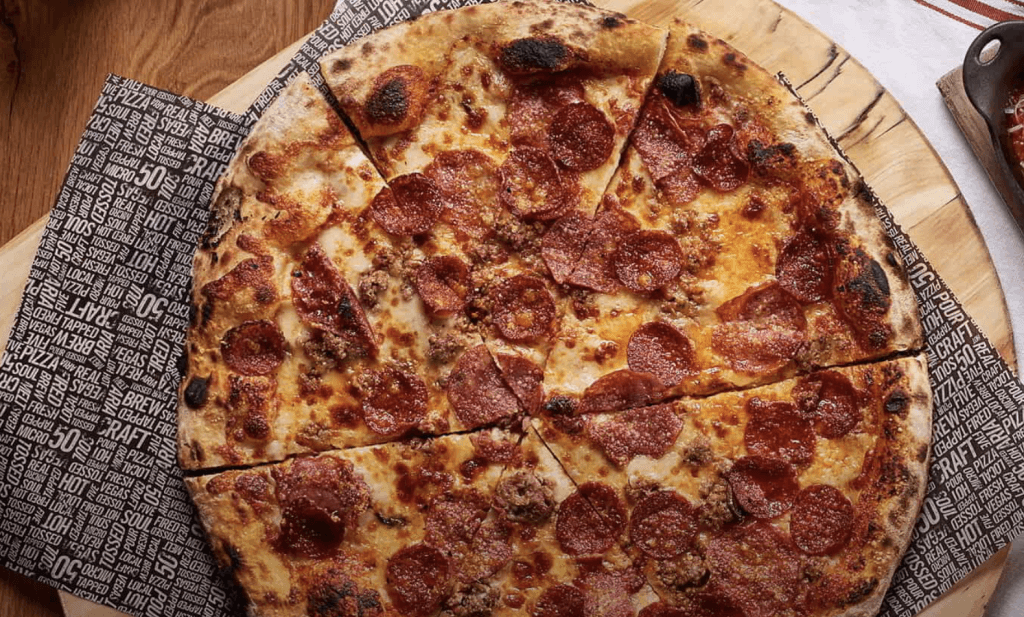 Recommended Pizza: Truffle Pizza
Step right off the ARIA Casino gaming floor into the Las Vegas pizza bar at Five50, where James Beard Award-winning chef Shawn McClain crafts his signature pies. He bakes each of his creations in a wood-fired oven at 550 degrees to give it the perfect crust.
Truffle salami, a bechamel sauce, potatoes, and shaved truffles top the aptly named Truffle pizza.
Another fan favorite is the North Beach with clams, smoked mozzarella, and sweet onions, or diners can design their own from the list of fresh toppings. Pair them with the perfect craft beer before heading back out to the gaming tables.
Which of these Las Vegas pizza spots is your favorite? Share your thoughts with us using the comment box below.