MyVEGAS Free Chips
FEBRUARY 8th UPDATE: The method below for myVEGAS unlimited chips is no longer active. Approximately 10 hours after it went live, the Laps promotion was removed from the game. Purple chips balances were reset to pre-lap numbers and users were gifted free chips. The myVEGAS app called it a "technical error". For other myVEGAS free chip opportunities, read below.
The v3.0.7 myVEGAS update in early February 2020 introduced a new "Laps" promotion where you earn myVEGAS free chips in exchange for completing laps around a virtual Las Vegas strip. A bug or quirk in the app allows you to earn myVEGAS unlimited chips than you spend once you hit a certain level.
If you want to get unlimited chips in myVEGAS, check out the details below in this guide! There is no word whether Play Studios, the developer behind myVEGAS, will be issuing a patch update or not, so your experience might vary.
Click here to browse through some of the attractions you'll be able to go to with all your new loyalty points!
What are Laps in myVEGAS?
Laps is a new promotion in the app where you complete laps or circles around the Las Vegas strip as you spin chips in the app's chosen game. The initial chosen game is the King Kong game.
Roughly every 3 million chips worth, you jump from one hotel to another in the game and earn a chip bonus.
After you jump from 6 hotels, you complete one lap and get a second chip bonus. Complete laps are between 20-30 million chips.
What Laps level do you need to be for unlimited chips?
When you hit laps level #13 in the game, the amount of chips you earn in one spin becomes greater than the cost of your spin.
What this means is that you can spend 30 million chips per spin and get back much more than that thanks to all of your lap bonuses.
How to Earn myVEGAS free chips with Laps
First, make sure you've updated to the v3.0.7 version of myVEGAS. It introduces a new Laps level bar on the left side of your screen such as in the screenshots below.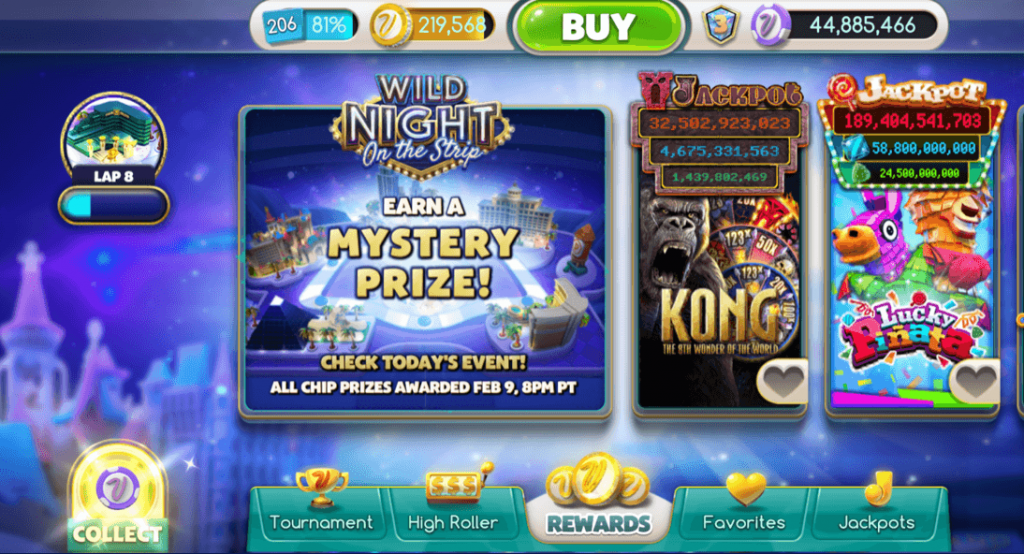 If you have a good number of chips (over 50 million), your grind up to lap level 13 will be much faster. If you don't have any chips, you'll want to collect and save your daily and hourly bonuses or else make an in-app purchase.
Start by betting between 75,000 – 300,000 chips per spin, something that is 1-2% of your overall bankroll. With a little bit of luck in the Kong game, you'll be able to stay afloat while you increase your lap level and collect lap bonuses.
Once you hit lap level #13, increase your bet to 30,000,000 chips per spin. Each spin, you should complete one full lap around the Vegas strip.
You'll collect five mini bonuses and one major bonus for completing a lap. At level #13, your total lap bonuses will be slightly more than your 30,000,000 chip spin.
As your lap level increases, you'll make more and more for each spin and your bank roll will increase.
Is this a myVEGAS Unlimited Chips a bug or cheat?
This is certainly a bug that Play Studios will patch soon. It is unlikely that they intended for users to build their bankroll indefinitely like this.
However, nothing described above is outside the rules imposed by the game.
There is no telling how long this will stay live, so use at your own risk!
Click here to browse through some of the attractions you'll be able to go to with all your new loyalty points!
Click here to see what else is new in myVEGAS after the new update.
Comment below and let us know if we missed anything!